Proactively preparing for a storm can save you a lot of money and headache! Here are a few tips you could take to get ready for the next storm.
The northeast is no stranger to the impact and damage a storm could cause. Each season brings its own challenges, and a storm could wreak havoc on your home or property. Despite the fact that mother nature is unavoidable, there are certainly things you could do as a homeowner to reduce the impact or damage a storm could have on your property and home. We'll be covering some of the best tips you could take today to save you money, and headache, in the future.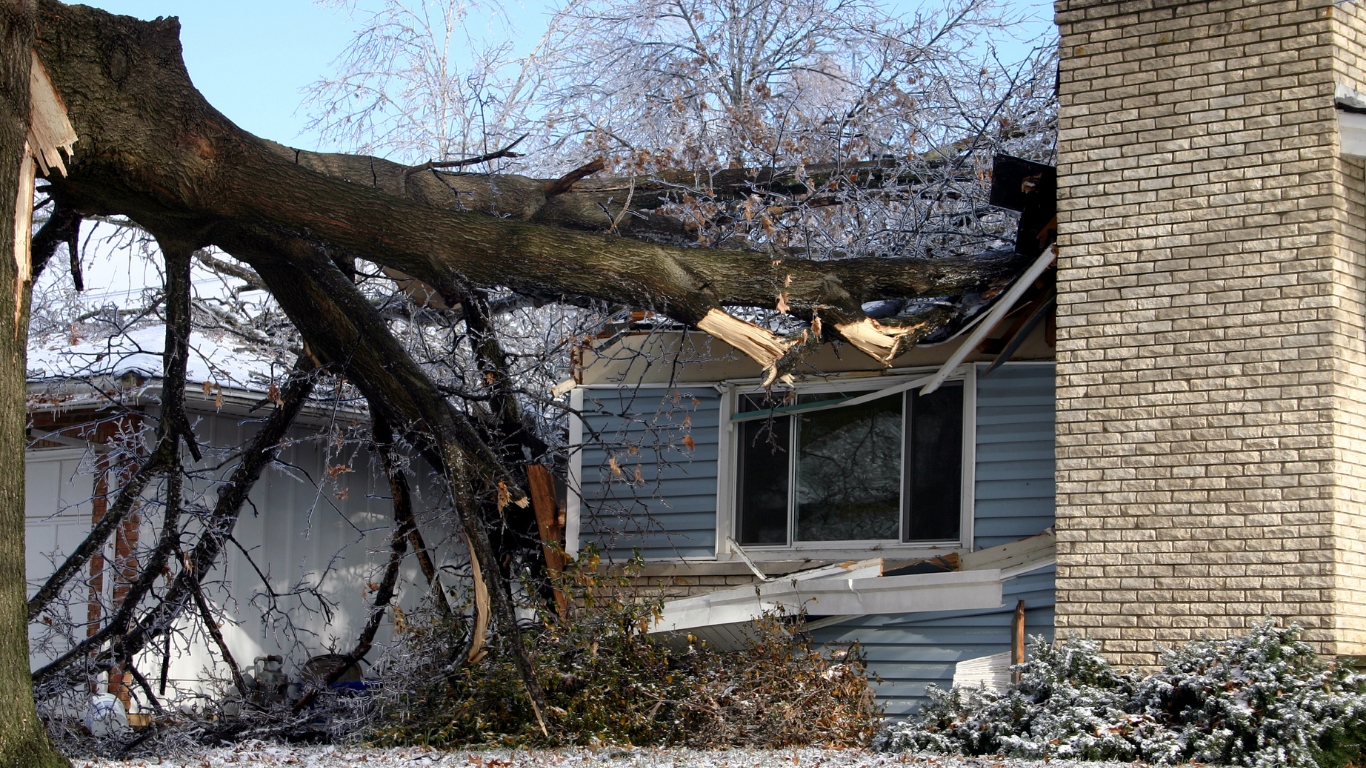 Pay Attention to the Trees
In order to protect the inside of your home, you often need to start on the outside. Trees and branches can cause severe damage, injury, destruction and even death in a storm. By the time the news starts talking about an incoming storm, it's too likely too late to start taking action. But, if you're proactive, maintaining your trees can go a long way to protect you, your family, and your property. Here's what you should be mindful of:
An unhealthy tree, or rotting tree, is more likely to tip over in a storm. The roots are not nearly as healthy as they once were, and the tree itself could be weak due to rot and damage. If the ground is wet enough, and the wind is strong enough, an unhealthy tree is no match for the storm. Proactively removing a dying tree can help you avoid the damage the tree could cause if/when it falls.
If you have a branch or limb hanging over your home, garage, driveway, fence line or pool, you may want to consider proactively maintaining/trimming the branch or limb. The branch or limb isn't only at risk of breaking away and falling with high wind. A heavy snowstorm could add inches of snow to a branch, and the weight could cause the branch to break away. As a professional tree service company, we have responded to hundreds of homes that saw damage during a storm. More often than not, our customers tell us 'we were thinking about having that branch trimmed, but never got around to it'. Postponing this job for a later date in the future could cost you a lot of money and frustration!
Not only should you be mindful of branches hanging over your home and property, you should also be mindful of branches hanging over your neighbors home or property. Even if the tree were to fall, or if a branch were to cause damage to someone else's property, you could be held responsible for that.
Sometimes there is no way to avoid a tree growing lopsided, or when too much weight is on one side of the tree, and not enough weight or branches are on the other side of the tree. A lopsided tree has an increased risk of falling due to the weight imbalance. Despite not being able to always control the growth patterns of a tree, you could do a lot to maintain and balance the weight if you notice the tree is lopsided. Trimming the tree, and reducing some of the branches, can rebalance the tree and cause it to stand in a more upright position.
Have Supplies
By no means do you need to clear out your local grocery store, but you should have supplies in your home. Some storms could cause cities to shut down completely for a few days or weeks, depending on how severe the storm was. If you're getting prepared for a heavy wind storm, or blizzard, have enough food, toilet paper, and water in your home that could sustain you for a few days. Keep in mind, if you don't have don't have a generator and rely on an electric stove, have food that you can prepare without needing to cook.
Own a Generator
Having a generator is a huge help! As we all know, a storm could cause power outages. A generator could help power your critical electronics, such as a fridge, electric stove, electric heater, or hot water heater. Buying a generator is an investment, but it's one of those things you'll be so glad you have in the event you ever had to use it.
Secure Your Belongings
Securing your belongings is something everyone should do. If you have deck chairs, a swing, a firepit, toys, umbrellas, plants, etc. in your yard, take the extra 60 minutes to bring everything inside. Storing these items in a shed, basement, or garage will prevent these items blowing away during a storm that brings a lot of wind. Even though it's crazy to think about, time and time again we've seen lawn chairs that have blown into someone's beautiful sliding door, or through a window. Nobody wants to deal with this issue, especially for something that's so easy to avoid.
Be Proactive
The best way to prepare for a storm is to be proactive! If you live in New Haven or Fairfield County, and would like to remove a tree from your property, trim branches, or remove an old stump, please give us a call. We'd much rather prefer to help you and your family during a time of want instead of a time of need. Hundreds of families have relied on Arbor Green to take care of all their tree related needs and questions. Please do not hesitate to give us a call today!