Homeowners and those who are house-hunting – here are four considerations you should be mindful of about the trees on your property!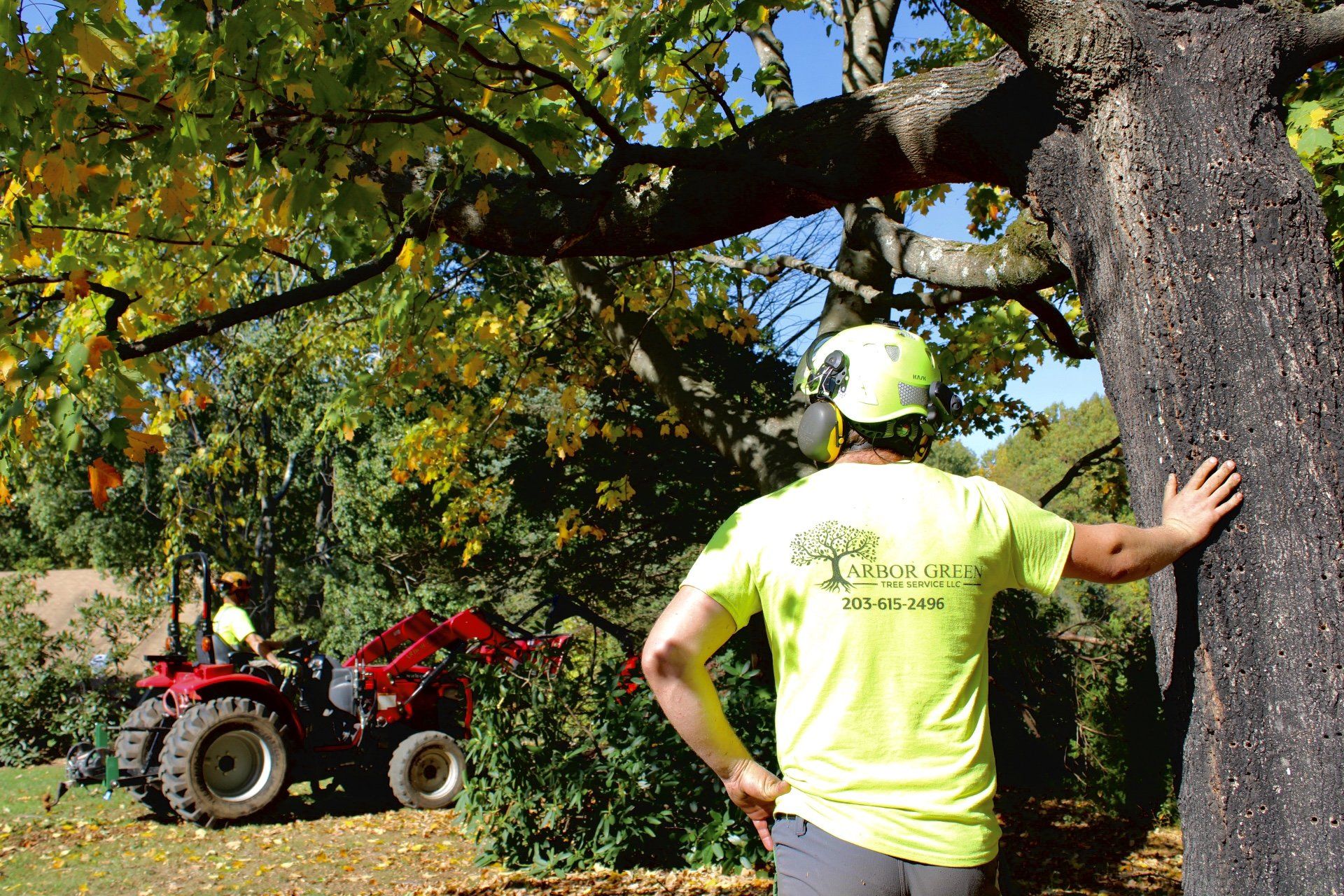 Homeowners and homebuyers need to pay attention to the trees in and surrounding their property. Unfortunately, paying close attention to the location of the trees on your property, and the health of the trees, is usually not top of mind for a homeowner, or for a potential homebuyer. But it should be. Considering the risk associated with tree work, and the equipment needed to do the job correctly and safely, the vast majority of homeowners will turn to professionals when tree services are needed – and rightfully so. Here are four variables to consider for the trees on your lawn.
#1 – Damage Prevention and Mitigation
There are numerous reasons why a tree may fall, or why limbs/branches of the trees may break free, and when this does happen, your property could be severely damaged. As a homeowner, pay very close attention to what your limbs and branches are hanging over. If your roof, driveway, fence line, or neighbor's home is directly under a heavy limb or branch, having that limb or branch trimmed or maintained is a smart thing to do. Therefore, if the wind/rain/snow caused the branch to fall, you mitigated or reduced the risk of that branch causing damage or injury to anyone or anything. If you're in the market for a home, pay close attention to this. You can certainly negotiate with the existing homeowner to have the trees serviced, or to receive cash back at closing for tree work.
#2 – Pay Extra Close Attention to Dead Trees
As mentioned above, a tree can fall with heavy wind, rain, or snow. Paying attention to a healthy tree is important, but paying attention to a dead or dying tree is even more important! Why? There are numerous reasons why a dead or dying tree needs special attention.

First and foremost, insurance companies could give you a hard time if your dead tree caused damage to your home or your neighbors. Insurance companies may say it's negligence that this tree was not maintained, and depending on your policy, may not cover the damage caused.

Additionally, dead and dying trees pose a higher risk of falling over or losing limbs and branches. Dead trees also attract insects, which can be damaging to your home or deck, and ridiculously expensive to get rid of.
#3 – Maintenance is Key
The vast majority of our work occurs when it's too late – once the tree or limb has fallen. Without question, it's impossible to prevent or guarantee a tree or limb won't fall. After all, trees are natural, and nature can't be predicted. With that said, properly maintaining your trees is a great way to keep them healthy and strong – which reduces the risk profile.

What does tree maintenance look like? First and foremost, tree work is not all about removing trees or grinding stumps. Similar to your boiler or central air conditioning unit, service keeps the equipment running properly for years after install. That concept is no different for trees. Trimming limbs and branches can help the tree grow straight, prevent excessive growth over the fence line or home, and can help balance the weight of the tree.

Unlike a boiler, trees do not need to be maintained every year. If you haven't had a professional tree company look at your trees recently, or if you just purchased a home, consider contacting a company for a consultation. Staying proactive can help reduce headaches and hardship down the road.
#4 – A Lack of Trees Could Also Mean Trouble
Trees provide more than shade and beauty. They also provide insight into the health of the lawn and soil. If your property has poor drainage, trees will have a hard time growing. Trees need water to survive, and having trees on your property can actually help keep your yard dry after a heavy rainstorm. With that said, too much water is a bad thing, can easily kill trees. If you're house hunting and notice there are no trees in the yard, be sure to visit that home after a rainy day to get a sense of how the yard reacts to rain. Be on the lookout for standing water, soggy grass.
We're Happy to Help
Arbor Green is a full-service tree company serving New Haven and Fairfield County. We've been in business for years, and have helped countless customers with all their tree needs. From land clearing, stump grinding, tree removal, and tree maintenance, we do it all. Please reach out to us if you have any questions or concerns. If you have an emergency, we're ready to help 24 hours a day, 7 days a week.